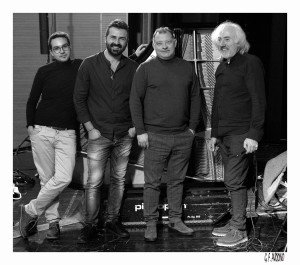 Livio Minafra: piano & arrangements
Roberto Ottaviano: soprano and alto sax
Nando Di Modugno: el. guitar
Maurizio Lampugnani: percussion
The quartet was born in 2009. It soon established itself on the national and European scenes for freshness and originality. In 2011 the first CD of the group was published for Enja Records (Germany), Surprise, and the musical magazine Musica Jazz with its seventy critics awarded him as Top Jazz 2011 as Best Group of the Year. Today the Livio Minafra New 4et is the natural continuation of the 4et born in 2009 and musically continues to create, also inspired by the fact that Livio lives in southern Italy, a spurious imaginary of Mediterranean, Jazz, Balkan Afro Apulian sound combined with elements of French impressionism. At the expense of "service" roles that some instruments today have and that can sometimes get old the jazz, the absence of the bass allows the 4et on harmonic territories where each one has equal importance. Minafra himself uses to say that the solo piano – its most long-lived and sincere project – is an inner journey while the 4et is a festive and shared playground.